No Walk-In's Appointment Necessary
Please Call or Text
(631) 682-1378
An Awesome Facial & Massage All In 1
 

Bellanina Facelift Massage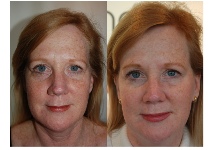 (Actual Pictures from Bellanina Institute Website)    
Before                        After
 A massage and facial all in one! Bellanina Facelift Massage consists of a thorough cleansing with a pure, wholesome facial cleanser and warm towels to soften the skin. 
An extra long massage of your face with luxurious aromatherapy oils and invigorating Honey Massage lotion. Using whipping, tapping, acupressure and contouring strokes as well as manual lymph drainage, blood and oxygen is stimulated to nourish, rejuvenate and tone the muscles and skin of the face. Your hands and feet are then massaged while you relax.
The face is moisturized with crèmes containing the finest natural bio-extracts to feed and nourish the skin. At the completion of your Facelift Massage treatment, your scalp is massaged.  Most people actually fall asleep during the session...saying that "The Bellanina Facelift Massage" is MORE relaxing than that of a normal full body massage! Wow! now thats relaxing!
What People are saying about Altair's Bellanina Facelift Massage
-This was the best facial and massage ever! My lips, eyes, and forehead look amazing and I can't wait to see the results after more sessions.
P.O.
-Very relaxing. Would do this once a week if I could. I feel rejuvinated and my skin feels smoother and looks clear and clean.
C.S.
-Awesome! I loved it! Very relaxing! Highly recommend it!
B.L.
-Sooooo Good! I am very relaxed and my face feels great! Thanks, Altair!
L.C.